Tom Brady and Rob Gronkowski were back trading barbs like the old days on Monday's episode of the "Let's Go!" podcast with sportscaster Jim Gray ahead of the Tampa Bay Buccaneers' matchup against the Dallas Cowboys.
Brady told Gray he was looking forward to having Gronkowski on the show after the tight end spent the entire 2022 regular season retired. He said he would rather have Gronkowski on the field playing with him at Raymond James Stadium against the Cowboys.
"As much as I love having him on the show, I'd much rather have him on the field with me," Brady said. "So, I'm a little pi–ed off at him that he's on the show with me on a Monday morning and not on the field with me Monday night. But I'll get over it."
CLICK HERE FOR MORE SPORTS COVERAGE ON FOXNEWS.COM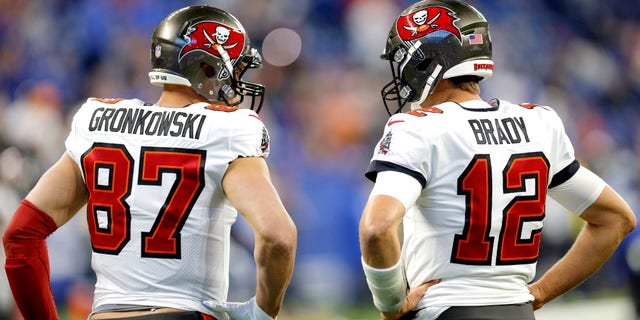 Tom Brady #12 and Rob Gronkowski #87 of the Tampa Bay Buccaneers talk before the game against the Indianapolis Colts at Lucas Oil Stadium on November 28, 2021 in Indianapolis, Indiana.
(Michael Hickey/Getty Images)
Brady said there were multiple attempts since March to bring Gronkowski back to the Buccaneers. The tight end told Fox News Digital last week his mindset just wasn't there to play football again.
When Gronkowski joined the show, Brady wondered if there was enough time to get Gronkowski down to Tampa to take a physical and suit up.
"If I come down there, and I'm ready to play tonight, I'm going to skip the physical, first off," the former Buccaneers and New England Patriots star said. "I'll just flex. I'll walk in the room, and I'm going to be like, 'You like those guns?' And they'll be like, 'Yes, I do. Passed the physical.' Just check mark, I'm good to go. And if I had to suit up, I've been running a little bit. Nothing crazy. I haven't ran any football routes at all. Haven't caught a football. How many plays do you think you could get out of me tonight if I just showed up, put the pads on and played tonight?"
Brady said he thought he could get about 20 plays out of Gronkowski if he did in fact play.
TOM BRADY 'DEFINITELY DID RIG THE SYSTEM TO GET INTO THE PLAYOFFS,' ROB GRONKOWSKI JOKES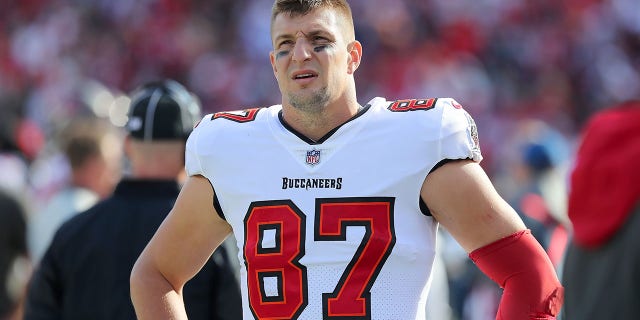 Tampa Bay Buccaneers Tight End Rob Gronkowski (87) watches a replay on the jumbotron during the NFC Divisional game between the Los Angeles Rams and the Tampa Bay Buccaneers on January 23, 2022 at Raymond James Stadium in Tampa, Florida.
(Cliff Welch/Icon Sportswire via Getty Images)
"I think I could do that as well. I think I could pull it off, about 15 to 20. I mean, the velocity on the football, you got to chill it out a little bit because every time I come back and that first pass you always throw to me seems like it's like 200 mph, I'm not really used to it yet," he said. "So, that first pass, oh, we'll get that out of the way in warm-ups. So, I'll do like three warmups so I don't burn out. And then about 15 to 20 plays. I think I can pull it off."
Brady said he believed Gronkowski could do it.
"You are a natural, it's like riding a bike for you," he said. "And I remember the times where we haven't thrown for a while and then all of a sudden we show up together and it's like, boom, we're hitting on all cylinders. So, it takes literally no time because you're actually an amazing athlete and you're a natural football player, so it doesn't take much for you to be ready to go."
Gronkowski retired from the NFL after the 2021 season. 
He told Fox News Digital he ignored the texts and calls from people enticing him to play.
"I know, man. I just kind of ignore them," he said. "I laugh, you know. I send some funny things back, but it's also very humbling. It's very cool to be in that situation as well thought to where you're still wanted. Usually, in the NFL, you get chewed up and you get thrown out right away. You get spit up and spit out, and, therefore, it's just cool to be in that situation.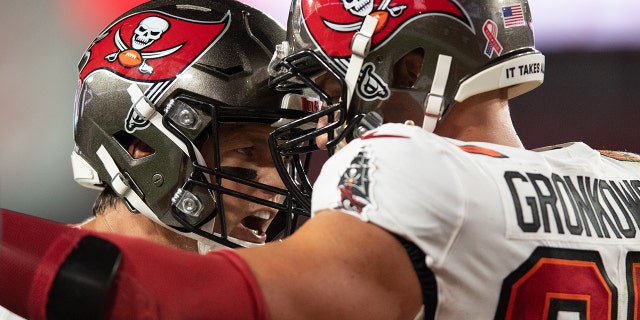 Sep 9, 2021; Tampa, Florida, USA; Tampa Bay Buccaneers quarterback Tom Brady (12) and tight end Rob Gronkowski (87) celebrate after a touchdown against the Dallas Cowboys in the second quarter at Raymond James Stadium.
(Jeremy Reper-USA TODAY Sports)
CLICK HERE TO GET THE FOX NEWS APP
"I would say just one of a few out there to have teams call, and you can come back and play in the NFL. So, that's definitely a humbling experience. But the mindset is just not there. And I just enjoy my time off and very content on where I am."
Ryan Gaydos is the sports editor for Fox News Digital.