Houston police are looking for a "sharp dressed" man caught on camera in two bank robberies this month. 
The latest robbery occurred Tuesday afternoon, Houston police say. Around 2 p.m. a man entered a bank at the 1700 block of Fountain View. The man walked up to a bank employee, presented a "threatening note" demanding cash, gave the employee a bag to put the money in, and displayed a handgun.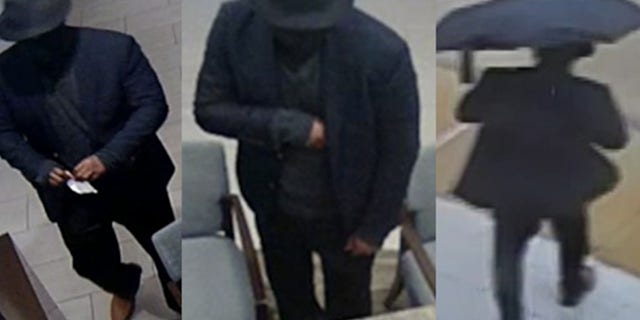 Surveillance of a "sharp dressed" bank robber in Houston, Texas. 
(Houston PD)
Police say the employee complied with the suspect's request and fled in an unknown direction. 
The suspect is believed to be the same man responsible for another bank robbery on Thursday, Jan. 5, 2023 at the 5800 block of San Felipe, in Houston, Texas. Police say the suspect committed the robbery in a "similar manner." 
FLORIDA DELIVERY DRIVER ROBBED BY CONVICTED FELONS WITH DOZENS OF CHARGES CAUGHT ON TERRIFYING VIDEO
Police say the suspect is a Black male, around 35 to 45 years old, around 200 pounds, and just shy of 6 feet tall. He was wearing a dark sports jacket, dark pants and a dark blue mask, and had a black umbrella. 
Crime Stoppers is up to $5,000 for information leading to the identification, charging and/or arrest of the suspect in this case. 
The FBI shared photos of the first robbery, dubbing the suspect the "Pocket Square Pillager." 
CLICK HERE TO GET THE FOX NEWS APP
The Houston Police Department shared video footage of the second robbery, accompanied by ZZ Top's 1983 song, "Sharp Dressed Man." 
Bradford Betz is a Fox News Digital breaking reporter covering crime, political issues, and much more.