Fox News' Sean Hannity sparred with Geraldo Rivera over President Biden's border policies Monday on "Hannity."
Hannity highlighted record numbers of migrant crossings under the Biden administration and large amounts of fentanyl being smuggled into the country via the southern border. 
"When will you join me in saying, if you want to come to America, you got to do it legally?" he asked Rivera. 
"I join you right now. Loud and clear," Rivera responded. "It's a terrible problem. We've got to deal with it. We need the wall. You're right about that. You have been right from the very beginning."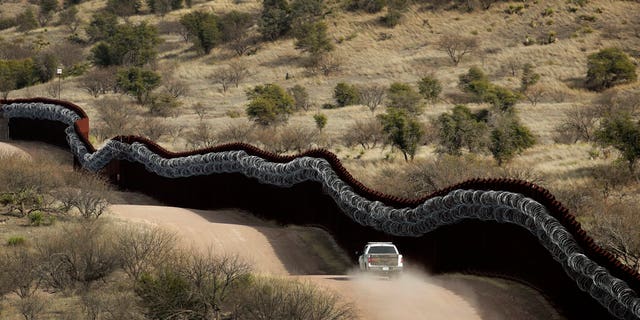 FILE – This March 2, 2019, file photo, shows a Customs and Border Control agent patrolling on the US side of a razor-wire-covered border wall. (AP Photo/Charlie Riedel, File)
"The Five" co-host continued, saying a wall is, in fact, needed, but it should have a "great big door in it." 
"Why? Because we need an orderly, practical, compassionate immigration system. Because we need these people. We're a nation of immigrants. We're down to 3.5% unemployment. We have millions of jobs going unfilled because we just don't have the workers. What we need is for people to follow the law. We need a coherent system." 
Hannity pushed back, arguing President Biden isn't creating such a system but is rather giving migrants "preferential treatment." 
He pointed out how the Biden administration doesn't require a COVID vaccine prior to entering the country and how migrants receive new phones and transportation to a city of their choice.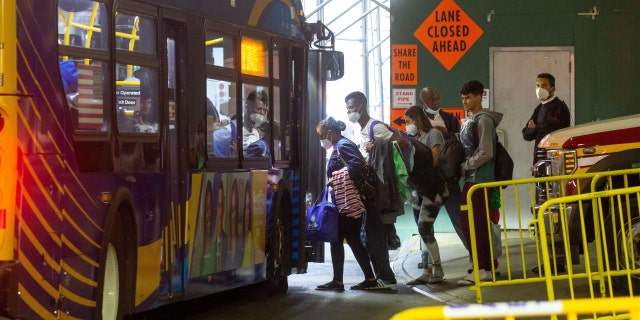 Migrants leave for a shelter from the Port Authority bus terminal in New York, the United States, on Sept. 27, 2022. New York City will set up and open transitory humanitarian emergency response and relief centers in the coming weeks to handle the influx of migrants transported from Texas and other border states, announced New York City Mayor Eric Adams recently. 
(Photo by Michael Nagle/Xinhua via Getty Images)
"Why don't we have a system that checks for radical backgrounds and associations or a system that in the middle of a pandemic, checks for their health or a system that says you've got to prove that you can take care of yourself and won't be a burden on the American people. Is that fair?" he asked. 
"Yes, it is fair," Rivera said before adding two points. 
"When you saw Governor Abbott on the tarmac with President Biden, that was unfortunately adversarial. But wouldn't it be nice if they were shoulder-to-shoulder? If they worked together, Republican and Democrat, to fix this problem? It's not going to be fixed with posturing, not with Biden's grandstanding or Governor Abbott's grandstanding. It's got to be fixed with people working together." 
ABBOTT BLASTS BIDEN'S BORDER POLICIES AND DIRECTS STATE AGENCIES TO TACKLE TEXAS FENTANYL CRISIS
Hannity interjected, saying, "that's not fair." "The governor has had to bear the brunt of Joe Biden's policies of aiding and abetting criminal activity by himself. Joe Biden has never been to the border until this weekend, a whopping 4 hours from wheels down, till wheels up."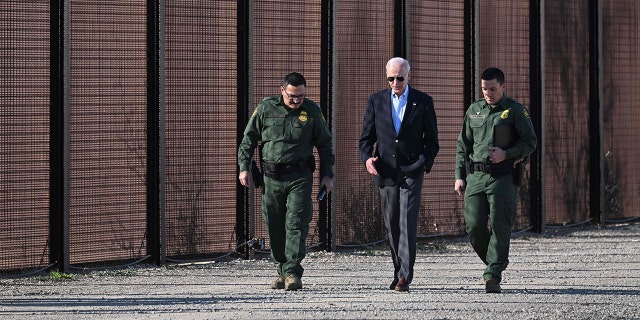 US President Joe Biden speaks with a member of the US Border Patrol as they walk along the US-Mexico border fence in El Paso, Texas, on January 8, 2023. 
(JIM WATSON/AFP via Getty Image)
"I give the governor of Texas, you know, great props for what he did because it was brave, it was truthful, it was honest, and it was a reality check that clearly Joe needs," he said. 
Abbott gave the president a scathing letter criticizing his border policies and for showing up "two years too late."  
Rivera again argued the need for compassionate immigration laws but said right now, the Biden administration should be focused on curbing the amount of fentanyl that comes in through the border.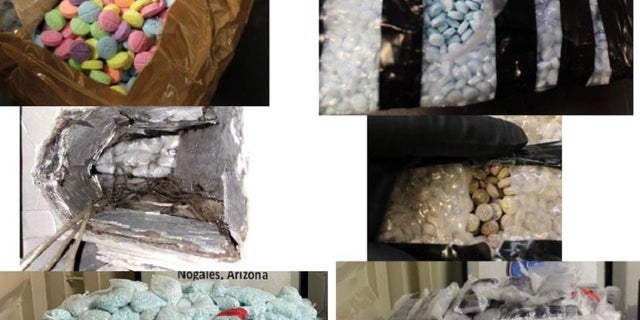 Border officers in Arizona seized more than 1.5 million fentanyl pills over the course of several days, authorities said Monday.
(U.S. Customs and Border Protection)
"Fentanyl is the real horrible difference between years past and now," he said. 
CLICK HERE TO GET THE FOX NEWS APP
"San Francisco, in the film that you showed of the Tenderloin District, [an] open-air drug market. Five hundred fentanyl overdose deaths in the last year alone in that one city, London Breed, the mayor making that get tough speech on crime you know, 'we're going to clean up the streets.' It is a scourge. We have to work together." 
Ashley Carnahan is a production assistant at Fox News Digital.