Politico White House reporter Eli Stokols said Sunday that the discovery of President Biden's classified documents "takes some paint off" his presidency because "they're supposed to be the grown ups."
Stokols said those in the White House who were getting ready to work on a 2024 campaign were frustrated because the president often touts competency, experience and transparency. 
"They might be confident that in the end, this won't really go anywhere, it'll be fine, but it's going to hang over them for a while and I think the damaging thing that people are worried about is to that perception. This takes some paint off the Biden presidency and it's because they're supposed to be the ones who know what they're doing, they're supposed to be the grownups, the competent ones and this does not look like an example of great competence here," he said. 
CNN "Inside Politics" host Abby Phillip said Biden was "compounded" by what he said about the discovery of classified documents at former President Donald Trump's Mar-a-Lago home.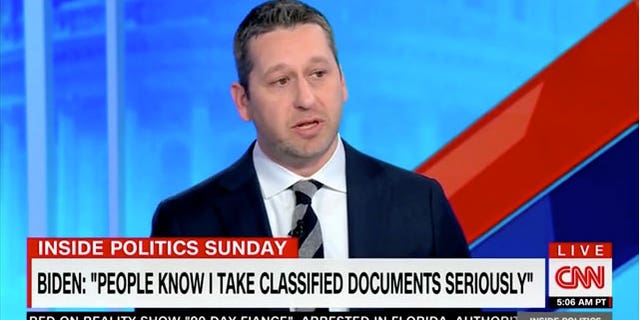 Politico's Eli Stokols joins CNN's "Inside Politics" to discuss President Biden's classified documents. 
(Screenshot/CNN/InsidePolitics)
BIDEN CLASSIFIED DOCUMENTS STORY LIGHTS UP SOCIAL MEDIA: 'WATCH HOW FAST THIS DISAPPEARS'
The president said Trump was "irresponsible" during an interview with CBS' Scott Pelley in September. 
"How that could possibly happen, how one anyone could be that irresponsible," Biden said in response to a question about the documents found at Mar-a-Lago. "And I thought what data was in there that may compromise sources and methods. By that, I mean, names of people helped or et cetera." 
Phillip said that Biden's past comments "muddies the waters" a lot for him.
Attorney General Merrick Garland announced that he appointed a special counsel to investigate the documents discovered at the Penn Biden Center and at the president's home in Delaware.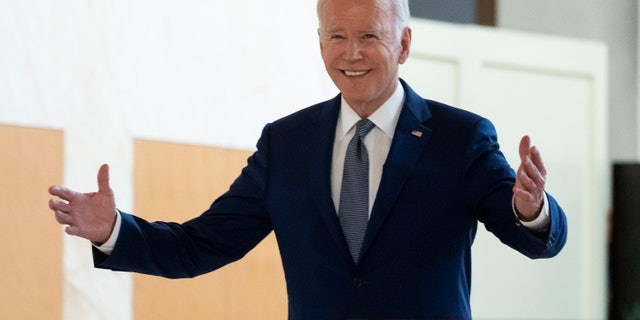 U.S. President Joe Biden reacts as he walks to greet Chinese President Xi Jinping before a meeting on the sidelines of the G20 summit meeting, Monday, Nov. 14, 2022, in Bali, Indonesia.
(AP Photo/Alex Brandon)
PRESIDENT BIDEN IGNORES QUESTION ON WHY CLASSIFIED DOCUMENTS WERE FOUND AT HIS THINK TANK
A third batch of documents were discovered at the president's home on Thursday, according to Biden's attorneys. 
"Because I have a security clearance, I went to Wilmington Thursday evening to facilitate providing the document the President's personal counsel found on Wednesday to the Justice Department," special counsel to the president Richard Sauber said in a statement. "While I was transferring it to the DOJ officials who accompanied me, five additional pages with classification markings were discovered among the material with it, for a total of six pages. The DOJ officials with me immediately took possession of them."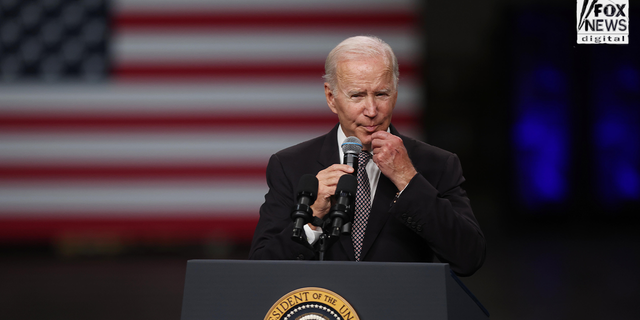 President Joe Biden visited the IBM facility in Poughkeepsie on Thursday.
(The Image Direct for Fox News Digital)
CLICK HERE TO GET THE FOX NEWS APP
Rep. Ilhan Omar, D-Minn., said Saturday that she was "glad" a special counsel was appointed to investigate the discovery of the president's classified documents. 
"Yes because anytime there is a deviance in regards to security protocols, that should be taken serious, it should be investigated," Omar said. "So you have to understand right? Republicans are not really interested in upholding the law, and following security protocols. What they're interested in is playing political game and now only wanting to investigate Biden."
Hanna Panreck is an associate editor at Fox News.