Twitter users pounced on the news revealing that President Biden's personal attorneys discovered a "small number of documents with classified markings" in a locked closet at the Penn Biden Center on Nov. 2.
According to the attorneys, the documents were found after they planned to vacate the office space, and the National Archives soon took possession of them on Nov. 3. Special counsel to the White House Richard Saubel has since said that the president is cooperating with the Department of Justice over reviewing the matter.
Many people pointed out the similarities between this news and the FBI raid on former President Trump's Mar-a-Lago home last year when FBI seized approximately 300 classified documents. At the time, Biden called out Trump as "totally irresponsible" and questioned how this could happen in the U.S.
"How that could possibly happen? How anyone could be that irresponsible? And I thought what data was in there that would maybe compromise sources and methods?" Biden told 60 Minutes. "And it just — totally irresponsible."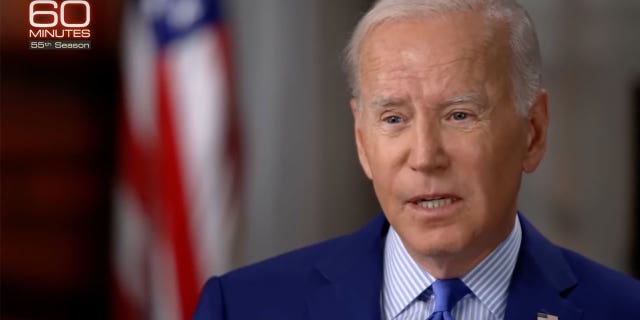 President Biden blasted former President Trump for his "irresponsible" handling of classified documents during an interview on "60 Minutes" in September 2022.
(Screenshot/CBS News)
EL PASO CLEANUP BEFORE BIDEN'S BORDER TRIP SLAMMED AS 'LOUSY TENANTS' TRYING TO SAVE THEIR DEPOSIT 
Conservative Twitter users quickly mocked the irony of the news as well as the contrast between the treatment of Biden and Trump.
"But… but… I was repeatedly assured that keeping classified documents in your private residence was an impeachable offense if not treason. Watch how fast this disappears," Hot Air writer Jazz Shaw tweeted.
"HOLY CRAP, @FBI, DID YOU GUYS SEE THIS?!?!? WHEN'S THE RAID AT BIDEN'S HOUSE?!?" Radio host Dan O'Donnell posted.
X Strategies senior digital strategist Greg Price similarly wrote, "SEND THE FBI. RAID IT IMMEDIATELY. JOE BIDEN STOLE SECRETS FROM OUR GOVERNMENT."
Washington Examiner writer Jerry Dunleavy tweeted, "objectively funny that Biden had some classified docs stashed away and everyone knows it."
"I'm not really impressed unless your classified is on a bootleg homebrew email server in a basement. Everything else is anticlimactic," American Commitment president Phil Kerpen wrote.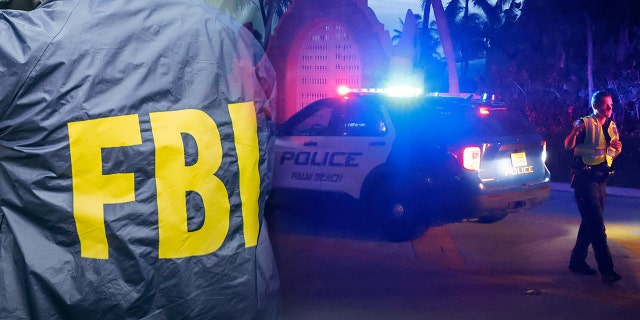 The FBI has been criticized for raiding former President Donald Trump's Mar-a-Lago home.
(Fox News)
BIDEN'S EL PASO VISIT BLASTED AS LONG OVERDUE: 'WHY HAS IT TAKEN YOU 50 YEARS?' 
By contrast, liberal Twitter users attacked the mainstream media's reporting on the news, insisting that Trump's example was far worse.
Writer Thor Benson tweeted, "Biden's people discovering a small number of classified documents and then immediately turning them in is not the same as Trump intentionally taking a large number of highly classified documents and then lying about it, but I'm guessing we're in for some dumb both sides nonsense."
"This tweet has big October 2016 energy," Rolling Stone digital director Lisa Tozzi wrote.
Podcast host Bob Cesca wrote, "The documents were immediately handed over to NARA and DOJ was informed. But good job suggesting a parallel to Trump's document theft. 'Discovered and returned' could've fit your tweet. Delete your account, CBS News. Pathetic."
LA Times columnist Harry Littman commented, "plenty of critical distinctions, but they won't stop McCarthy Jordan and the new Hit Squad from howling to the heavens…."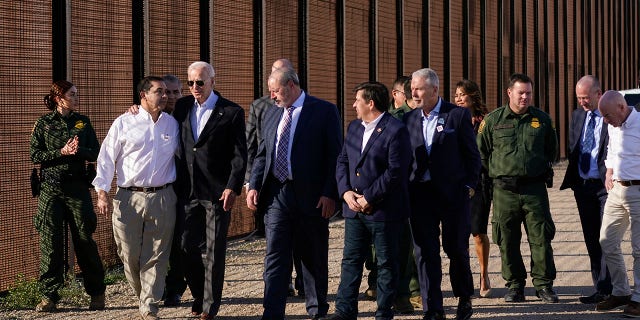 President Joe Biden talks with Rep. Henry Cuellar, D-Texas, second from left, as they walk along a stretch of the U.S.-Mexico border in El Paso Texas, Sunday, Jan. 8, 2023. 
((AP Photo/Andrew Harnik))
CLICK HERE TO GET THE FOX NEWS APP
Rep. James Comer, R-Ky., chairman of the House Oversight Committee, criticized the news as an example of a "two-tier" system of justice and announced plans by the committee to investigate the records.
Lindsay Kornick is an associate editor for Fox News Digital. Story tips can be sent to lindsay.kornick@fox.com and on Twitter: @lmkornick.