Former House Intelligence Committee chairman Devin Nunes joined "Sunday Night in America with Trey Gowdy" to weigh in on Republican House Speaker Kevin McCarthy blocking California Democrats Reps. Eric Swalwell and Adam Schiff from appointments to the committee, saying McCarthy was "absolutely" right in doing so.
"I think it's very important, one of the things that [Schiff] did, the whole time that he was accusing Trump and Republicans of colluding with the Russians, he was busy calling Russians, talking to Russians, trying to get his hands on these supposed nude pictures of Trump. So we have to keep this all in perspective," Nunes said. "And look, now he wants to run for the Senate and you know, I think people are speculating, at least on Truth Social tonight, that the reason he's going to run for Senate is he can no longer be on Intel and his only other option was going to OnlyFans or something. Now, for Swalwell, that may be his only solution."
In rejecting Intelligence Committee appointments for Schiff and Swalwell, McCarthy has previously raised concerns that Schiff used "his power as [Intelligence Committee] chairman and lied to the American public," referring to Schiff's push of the Russia collusion scandal. 
MCCARTHY TUSSLES WITH REPORTER OVER INTEL COMMITTEE REMOVALS: 'YOU HAVE NOT HAD THE BRIEFING THAT I HAD'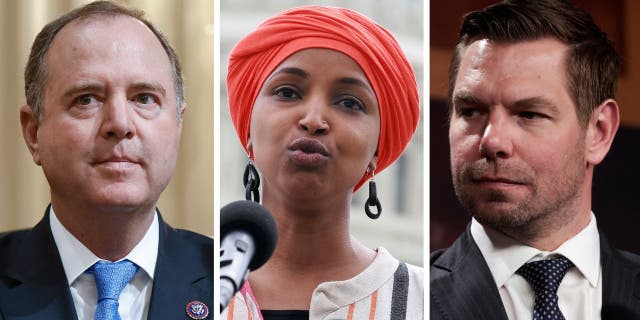 From left to right, Rep. Adam Schiff, D-Calif., Rep. Ilhan Omar, D-Minn., and Rep. Eric Swalwell, D-Calif.
(Getty Images)
Swalwell however has been embattled with a past scandal involving his close connection to Chinese spy Fang Fang. 
McCarthy has said, "The FBI was concerned about putting a member of Congress on the Intel committee that has the rights to see things that others don't, because of his knowledge and relationship with a Chinese spy,"
Fox News host Trey Gowdy raised a "pretty serious allegation" by former Secretary of State Mike Pompeo that, "Adam Schiff lied to the American people" and "leaked classified information."
MCCARTHY CONFIRMS SCHIFF, SWALWELL, OMAR WILL LOSE COMMITTEE SEATS
"Yeah, look, pretty serious information, and Mike Pompeo I think, would be in a position to know. And as you know, Trey, when we were there, there were constantly leaks," Nunes replied. "Now, some of those leaks happen to be classified information, but other times, and you alluded this to into your in your prelude, he would actually leak things that weren't so, which I think is even more dangerous because he would come out from the SCIF, and he would say, 'I can't tell you what I've seen, but it's really bad.'"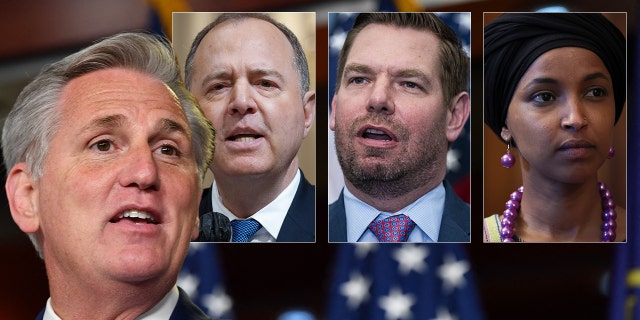 A split photo of House Speaker Kevin McCarthy with Reps. Adam Schiff, Eric Swalwell, and Ilhan Omar.
(Chip Somodevilla/Getty Images/Al Drago/Bloomberg via Getty Images/Win McNamee/Getty Images)
The now Trump Media & Technology Group CEO elaborated on the consequences of Swalwell, and Schiff's actions, saying, "This has a real meaning in life."
CLICK HERE TO GET THE FOX NEWS APP
"You know, when you walk through an airport, and you talk to people, you know, you will continually have people at least I do, that will tell you, 'I can't believe how you've defended Vladimir Putin like this.' And I'm like, what the hell are you talking about? So the damage that Schiff has done and Swalwell have done, poisoning the minds of the American people is serious with serious impacts," Nunes said. 
Christopher Lopez is a digital production assistant for Fox News Digital. He joined Fox News in 2021.